Finding Your Niche in the Market
Regular price

Sale price

$39.00
A popular saying is, "The riches are in the niches." While it can seem like narrowing your focus would limit the number of weddings booked, it is actually the opposite! When you serve a defined niche in the market, your marketing is more effective; you only serve your ideal clients, and you can charge a premium! 
 Discovering and defining your niche in the wedding industry is crucial for setting your wedding planning business apart in a competitive market. This digital workbook is created for wedding planners eager to identify and excel in their unique niche. You will learn: 
Why you should find a niche

How to choose a niche

How to find your ideal client within your chosen niche

How to adjust your brand to communicate your target niche
The workbook helps you pinpoint the niche that aligns best with your skills, passion, and business vision. By focusing on a specific niche, you streamline your marketing efforts and establish yourself as a specialized expert, attracting clients who are looking for precisely what you offer.
WHEN YOU PURCHASE THIS WORKBOOK, YOU WILL IMMEDIATELY RECEIVE A LINK TO DOWNLOAD!
Share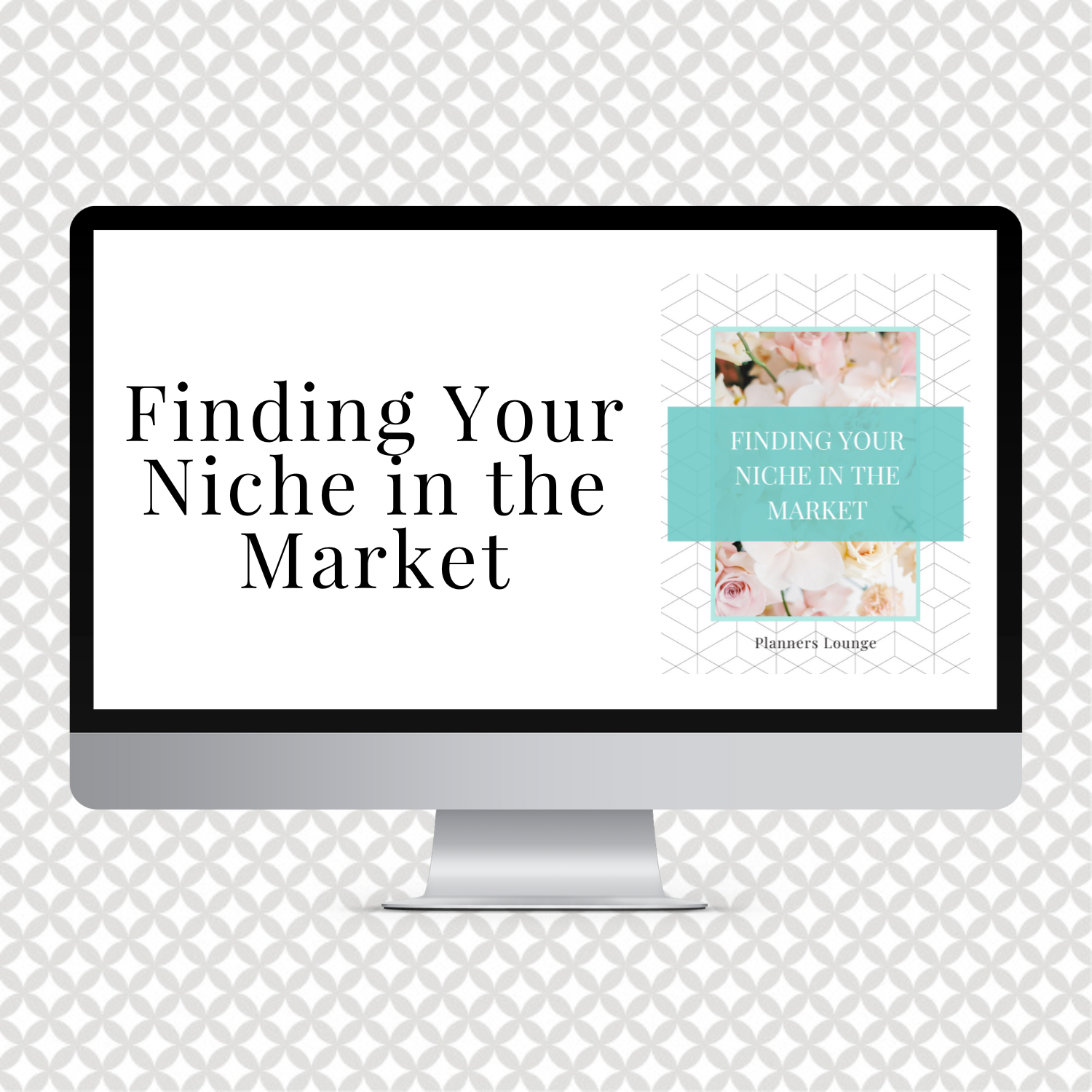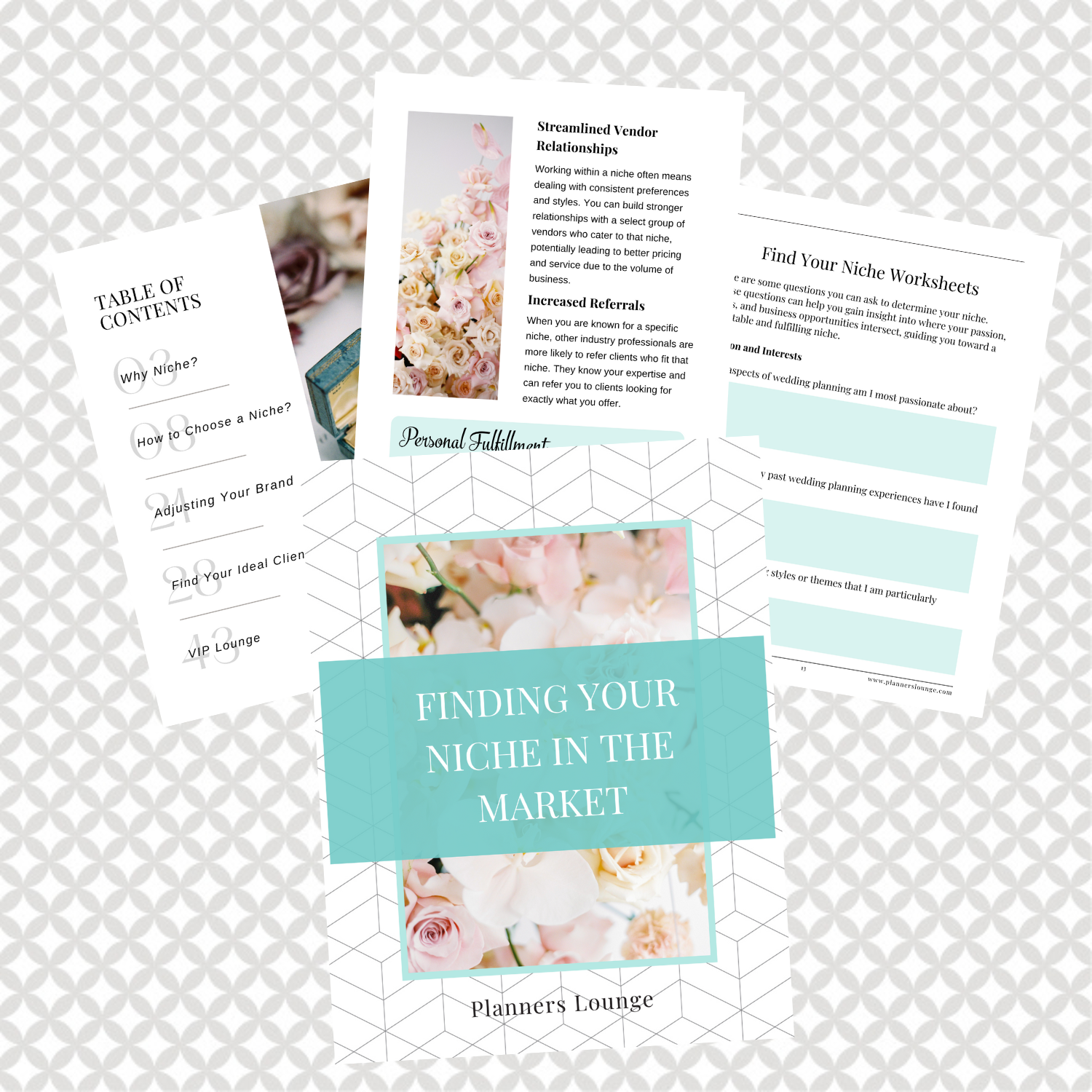 Additional Information
What's Included

WEDDING CEREMONY & RECEPTION TIMELINE TEMPLATES (7 PAGES)
SETUP DETAILS CHECKLIST (2 PAGES)
CLIENT CONSULTATION FORM (5 PAGES)
LINEN & RENTAL WORKSHEET WITH SIZING & CHARTS (2 WORKSHEETS)
WEDDING PLANNING CHECKLIST FOR PLANNERS (4 PAGES)
WEDDING VENDOR TRACKING DOCUMENT (3 PAGES)
WEDDING DAY EMERGENCY KIT LIST (2 PAGES)

CEREMONY + RECEPTION TIMELINE TEMPLATES
The Toolbox includes a detailed ceremony and reception timeline template for a wedding day. From hair and makeup appointments in the morning through clean-up at the end of the night, this template set includes all of the timeline details that a professional event planner needs to successfully manage a wedding day. Included are two complete real wedding timeline examples to use as a guide plus a checklist of more than 30 wedding and reception items that planners are often in charge of setting up on the wedding day.

CLIENT CONSULTATION FORM
Go into your client consultations with confidence when you use the professional five-page client consultation form that is included in the Wedding Planner's Toolbox. It includes all the questions to ask potential clients so that you have the information needed to create either a proposal or contract for services.

DETAILED PLANNING PROCESS CHECKLIST
Show your professionalism and attention to detail throughout the planning process with this detailed checklist of planning tasks for wedding planners. This eight-page checklist can be easily modified and provided to wedding clients as well.

WEDDING PLANNING QUESTIONNAIRE FOR NEW PLANNING CLIENTS
This document can be used in your first meeting or phone call after booking a new partial or full-service wedding planning client. It will help you, as the planner, get to know your clients, be able to project a budget estimate, gather ideas from the couple for the overall event design, and make vendor recommendations based on their desires.

LINEN + RENTAL WORKSHEETS
The Toolbox includes linen and rental worksheets with a linen and table sizing chart for reference along with a checklist and worksheet for managing everything your clients may need to rent for a wedding. The worksheets include more than 25 types of linen items and more than 100 types of rental items for weddings and special events

QUESTIONS TO ASK WEDDING VENDORS GUIDE
This guide has 15 pages of questions to ask wedding vendors at consultations and meetings. The questions are organized by vendor category and include every category from ceremony locations and photographers to transportation companies and wedding officiants

INSTRUCTIONS + ADVICE
The Wedding Planner's Toolbox comes with 11 pages of instructions, helpful hints, and additional resource links. Even if you are new to wedding planning, the toolbox has easy-to-use instructions for the forms and templates included in the toolbox.
FAQ

When will this ship to me?

The Toolbox is fully electronic. After purchasing, you will receive immediate access to download all of the files to start using today.

Can I use this for multiple clients?

By purchasing the Wedding Planner's Toolbox, you can print and use the templates for an unlimited number of clients in your own business. You can also change it, add to it, or delete anything you don't need. The files are easily customizable to fit your business and brand.

Do the files work for both PC and Mac?

Yes, the files are compatible with both PC's and Mac computers as long as you have general word processing and spreadsheet software installed.

What format are the files?

Most documents are Word, PDF, and Rich Text Files. These can be opened in most word processing programs like Word and Pages. The spreadsheets are Excel files that can be opened with most spreadsheet software like Numbers. You can also import the files into Google Docs or Sheets. After your purchase, you will receive a link to download a zipped file that contains the templates. Open the zipped file on your computer to access and then use on your computer, tablet, or phone.

Does the Toolbox include a contract?

Due to legal reasons, we are not able to include a contract. You can purchase a wedding planner contract here.

What happens if I lose the files?

Please save the toolbox files to a safe location immediately after your purchase. We recommend using Google Drive or Dropbox for free online storage. You can also download the zip file and email it to yourself, then keep that email for future use. We do not reissue files or links for the Wedding Planner's Toolbox.

How do I know the information in the templates is accurate?

These documents are used by thousands of professional wedding planners around the world. Before we launched The Wedding Planner's Toolbox, all files were reviewed for accuracy by event industry professionals including wedding planners, event designers, and venue coordinators.

I am new to wedding planning, will I be able to understand how to use these files?

These templates are made for a new or experienced event planner to easily understand and use. You can simply insert your name and/or logo and start using the files immediately.